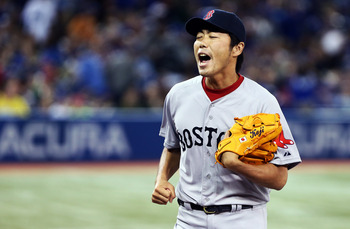 Koji Uehara is way too much fun. Every time Uehara gets out of an inning, he requests (and receives) high fives from everybody on the team, coaches, players, training staff, and translators. Last night, when Uehara earned his first save of the season in extra innings, he didn't disappoint and the high fiving was just as enthusiastic as ever.
The Red Sox are Uehara's third major league team, as he made his debut for the Orioles in 2009, and after spending two seasons plus in Baltimore, he ended up pitching for the Texas Rangers in 2011 and 2012. He was one of the free agents the Sox signed this offseason with little fanfare, expecting him to be a one-inning per outing guy, which is pretty much what we've seen.
With Andrew Bailey and Joel Hanrahan both on the roster, no one considered the possibility that Uehara might close even a single game - indeed, even with both of them on the disabled list, John Farrell had said that Junichi Tazawa would have the job. But Tazawa pitched two innings and got the win on Thursday, so Uehara got the call last night in the bottom of the tenth inning - and he certainly came through.