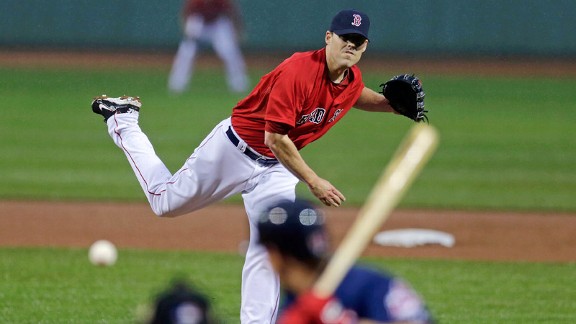 After getting absolutely demolished yesterday, the Red Sox defeated the Indians in a decisive manner tonight in a nine-inning downpour at Fenway Park. John Lackey was excellent, going seven innings, scattering just two hits and three walks and allowing just a single run.
The Sox offense had his back, punishing old friend Justin Masterson to the tune of five runs in six innings, and then beating up on the bullpen just a bit for good measure. Every starter had at least one hit except Stephen Drew, and Jose Iglesias played his first major league game at third base with no issues.
Beyond being impressive from the rubber, John Lackey had a great defensive play in the game, coming off the mound and sliding a few feet on his knees to throw out the runner at first base. I picked up Lackey with the very last pick in my fantasy league, and he's making me look much more savvy than I really am. Sadly I won't get any points for his excellent defense, but the eight strikeouts and low ERA are working for me.