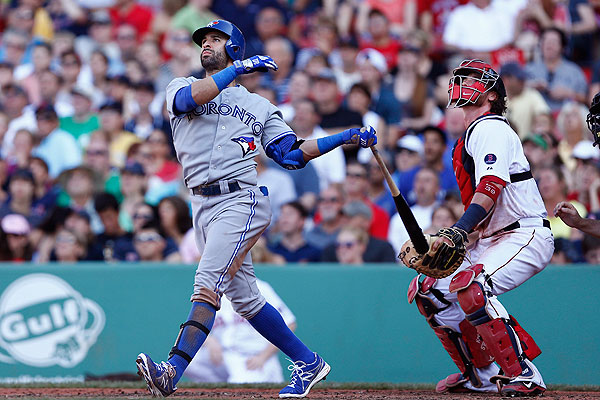 Last night's loss was less a story about Red Sox failings, and more an epic tale of one man proving that high socks give you superpowers. If you do a Google image search for Jose Bautista, it's pretty obvious that he normally wears his uniform the way that nearly all the Red Sox players do: with long pants and socks hidden beneath them. But last night, Bautista went for a different look (in my opinion, a better one), and had an excellent performance to boot.
Bautista hit a solo home run in the sixth inning to put the Blue Jays up 2-0. The blast was the 18th of the year for Bautista, and the 200th of his career, but he wasn't done. After the Red Sox managed to tie the game on a bases loaded, 2 RBI single from Shane Victorino in the bottom of the seventh, Bautista promptly hit a two-run homer in the next frame to put the Jays on top for good.
Even in the field, Bautista thwarted the Red Sox, as his strong throw from right field to the plate in the sixth inning prevented Victorino from scoring the first run of the game for the home team. Bautista's heroics were surely uplifting to Jays fans, but they (along with the performances of the rest of his teammates) prevented Felix Doubront from earning a win (though he did turn in a quality start), and snapped the Red Sox's four-game winning streak. For the sake of the Red Sox, hopefully Bautista returns to his usual style this afternoon.