This was my Facebook status at 1:00AM on Saturday:
Attention: Ichiro hit a ninth-inning, game-winning, home run off Mariano with two outs. The man is a STUD.
Everyone knows it's true. Ichiro Suzuki is that guy. You know, that guy that you love... except when he's playing against your team. The man has the ability to be a game changer on every single play. There aren't too many active players like that.... maybe just enough to list on one hand, but Ichiro is a category unto himself. Ichiro has 83 career home runs, and hit a career-high 15 back in 2005. This statistical trend doesn't seem to matter, as he can seemingly go bridge on command, against whichever pitcher you might throw at him.
Mariano Rivera, for instance, has given up just sixty home runs over a fifteen-year career, and if you throw out his rookie season, that number shrinks to forty-nine... So, take a guy who hits an average of 9ish home runs a year, and put him against the second-most prodigious closer of all time (Yankees fans often forget the still-active Trevor Hoffman has 66 more saves than their beloved Mo) who gives up less than four homers per year, you'd probably feel pretty secure putting your money on the latter.
WRONG. Ichiro is practically magic. He has shown time and time again that he
can
be a home run hitter, and instead chooses to spray base hits all over the field (to the tune of 200+ hits every one of his nine seasons in MLB, in addition to an already impressive career in Japan). If people can honestly argue that Derek Jeter deserves the AL MVP award based on "intangibles," then I can go a step further and suggest that Ichiro win it based on "intangible awesomeness (and suspected witchcraft)." Seriously. It's one thing to make your team play better when it's comprised entirely of all-stars, and quite another to pull off the sort of turnaround the Mariners have seen (they lost more than 100 games last season, and are on pace to go 85-77) with a team of rookies and past-their-primes (hello, Ken Griffey, Jr.). [In all seriousness, I'll cry if Derek Jeter wins the MVP. However, I will also be upset if Ichiro wins, because the man that deserves it plays in Minnesota.
Maybe you've heard of him
?]
Even beyond the numbers, Ichiro was the first position player to come to the Major Leagues and play every day. He is a superstar on two continents (maybe more), and deservedly so. He plays the game the right way, consistently beating out more infield hits than any other player, and hustling in the field. I'm also convinced he's secretly related to Spiderman, but that's another story...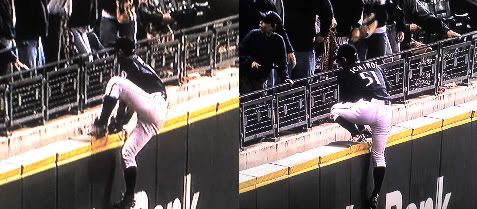 He's also sort of a general badass, and, according to Jason Bay, quite the joker:
Workout day. I run back in from the field to get sunglasses. Locker room completely empty except Ichiro stretching on the floor and his translator sitting on the chair beside him. So we make small talk, and I ask him where he lives in Seattle because I lived in the suburbs.
Well, I had barely got the last word out when Ichiro says something in Japanse. Then his translator turns to me, deadpanned and straight-faced and says, "I'm going to mess with your house." The way he said it was malicious, and Ichiro is on the floor dying laughing like it was the funniest thing ever. I was just like, "OK, I'll see you guys out there." I didn't know what to say. It was weird.
Anyway, you can see why I love the guy, and why is is, far and away, my favorite baseball player, non-Sox division.... At least until he does something like
this
against the Sox:
The best part is, he probably could do that.