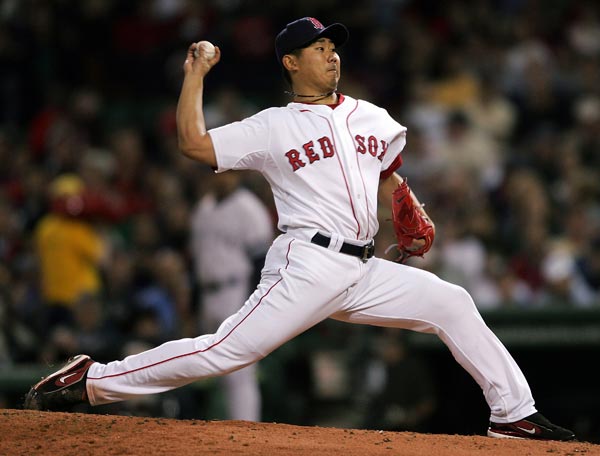 I didn't think I would get to say it this season, but I would like to thank Daisuke Matsuzaka. Seriously, after all the drama in the Spring about the WBC, I'm simply thrilled he was able to contribute at all, let alone deliver a performance like that. I was one of those people calling for blood after our resident Japanese enigma started off 1-5... and to be honest, I wasn't too particular whose blood it was: Bud Selig's, Team Japan's, Daisuke's himself? Didn't matter, I just wanted retribution. I recall demanding (in my usual delusional manner) that the nation of Japan pay Matsuzaka's salary, since he quite clearly cared more about them than the team that gave him an opportunity to fulfill his dream of playing in the major leagues.
That all changed last night. I don't have the exact quote, but Matsuzaka acknowledged that he had been a "burden" on his teammates this season, and he wanted to make it up to them. Ummm, thanks? Obviously, I'm not about to absolve anyone of blame - I will be
shocked
if any significant Sox stars participate in the next WBC - but if #18 can go on throwing the ball with any semblance of the authority he was last night, I don't think anyone can stop our starting rotation.
Last night was a legitimate playoff preview, and, lest you forget, we were playing sans V-Mart and Youk, yet still managed to score enough runs to win despite the presence of Captain GIDP in the lineup. As Martinez was taking care of personal matters in Cleveland, Tito had no choice at the catching position, but I for one have no doubt that Tek would have been behind the plate regardless. After a three month hiatus, it's in the team's best interest to have a familiar face catching Daisuke (we all know Becks turns into jelly when his security blanket is taken away).
Looking past the impressive performance last night (small sample size, I know... but let me be excited!), I don't think any team in baseball can beat our playoff rotation, 1-4. Beckett, Lester, Buchholz, Matsuzaka. Even if two of them perform at an average level, the other two have the potential to be so dominant that a five game series against us begins to look like an exercise in futility. I know I'm getting ahead of myself, but as a Red Sox fan, it is my god-given right to overreact several times during the season, and I've resisted (for the most part) thus far. That wasn't the hapless Royals we just shut down, it was the American League West leading Angels, who are still sitting pretty with an 86-58 record, six games up on the second-place Texas Rangers. However, from where I stand, the Red Sox are the team to beat right now.