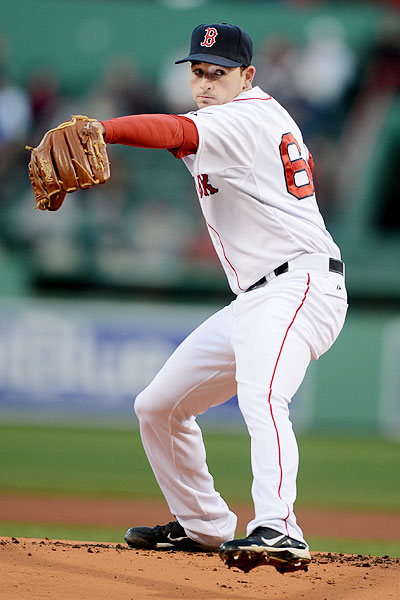 Last night's game went as well as you could hope (excepting Andrew Bailey's seventh inning struggles), as the red hot Red Sox bats managed to oust Blue Jays starter Josh Johnson just one out into the fourth inning. Meanwhile, rookie Allen Webster managed to lower his abysmal 11.25 ERA to a merely terrible 9.50 with six innings pitched and four earned runs allowed.
Webster did improve upon his last outing, allowing six hits in six innings, as opposed to 8 hits in just 4.1 innings last week in Detroit, and he showed pretty good control in last night's game, walking just two batters and striking out three. Webster is definitely improving, and as this was his first season playing even as high as AAA, I'd say he has a very bright future; indeed, he's making me feel woefully unaccomplished, as the righthander is nearly a month younger than I am, and already a big league pitcher.
Webster departed in the sixth inning with a lead, looking to earn his first major league win, but Andrew Bailey came in and recorded two strikeouts before allowing a two-out home run to Edwin Encarnacion, tying the game and erasing Webster as the pitcher of record. Andrew Miller pitched the end of the seventh and the eighth, earning himself a win when Jonny Gomes put the Red Sox on top for good with a pinch hit RBI single, followed by a Jarrod Saltalamachia walk that forced in an insurance run.
For the third day in a row, Koji Uehara, aptly described by Globe reported Peter Abraham as "
the game's most exitable 38-year-old,
" earned the save and copious high fives from his teammates, coaches, translators, and training staff. Unfortunately for the Jays, their bullpen didn't come through to the extent that Boston's did, as they needed five pitchers to get through the final 4.2 innings.
You really couldn't script things much better than this from the Red Sox point of view, as they've already guaranteed themselves the series split with two games to go. They're still in line for a four-game sweep of a division rival, and they've put themselves in good position to win the final two games, as they've pretty effectively abused the Jays bullpen for two straight days.