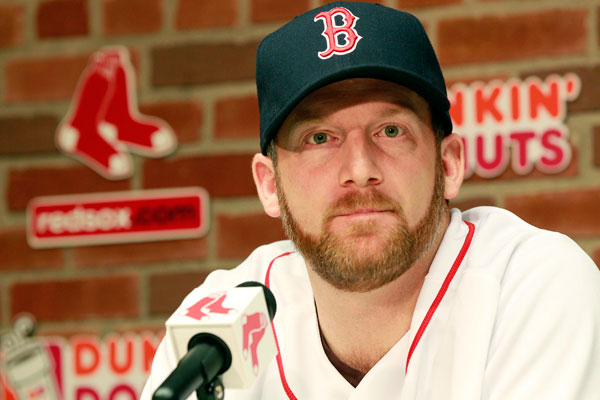 2011:
10-14, 34 starts, 202.1 IP, 4.80 ERA, 82 BB, 191 SO
2012 projection:
11-12, 32 starts, 203 IP, 3.95 ERA, 80 BB, 185 SO
2012:
12-8, 28 starts, 173 IP, 3.38 ERA, 52 BB, 153 SO
2013 projection:
11-10, 31 starts, 190 IP, 3.74 ERA, 66 BB, 172 SO
Did you ever think the Red Sox would sign a pitcher coming up on his tenth anniversary of Tommy John surgery? That's exactly who they have in 35-year-old Ryan Dempster, who went under the knife in August of 2003 while playing for the Cincinnati Reds.
Dempster has a career winning percentage of .500, a balanced 124-124 record, and a career ERA of 4.33. His most similar pitcher through age 35 according to
baseball-reference
is A.J. Burnett. This could admittedly freak you out, but not if you remember that A) Burnett had great stuff but he psyched himself out a lot, and B) the Red Sox are paying Dempster $26.5 million over two years, and the Yankees paid Burnett $82.5 million dollars over five years - literally paying him to play for Pittsburgh in the final season of that contract.
Ryan Dempster has been bopping around the majors since his career debut with the Marlins in 1998; the Red Sox will be his fifth team. But he brings something important to Boston: consistency. Dempster predictably turns in about 30 starts per season, comes in just under 200 innings pitched, and has an ERA around 4. That's certainly not spectacular, but there is something to be said for routine.
If Dempster can perform up the the standards Bill James has projected for him (though these numbers were calculated under the assumption that he would mostly be pitching in Texas), he will be well worth the money the front office has invested in him.