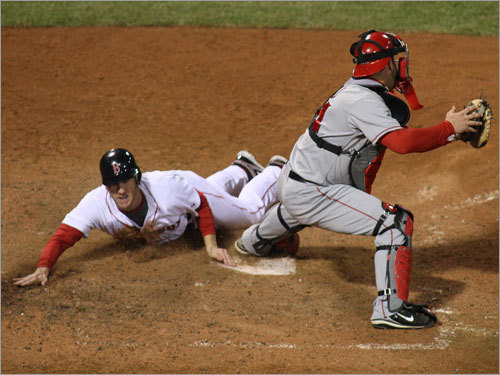 "Jason Bay is like the dutiful, pretty second wife who does everything right … and yet, I can't stop thinking about the soul-wrenching tramp who married me first and broke my heart." - Bill Simmons
I think that about sums it up. As good a player as our favorite Canadian is [and he's good], he'll never be what Manny was. But would we want him to be? I'm on the fence on that one: on the one hand, some of the things Manny pulled were hilarious and
endearing
, but they just got to be too much.
The Boston media was skeptical of Jason Bay at first.  They knew that he couldn't replace Manny, but let's face it, we didn't want Manny, at least not the way he was behaving.  We were looking for vintage Manny, before he turned into a prima-donna.  However, what's most remarkable about the Jason Bay trade is that we got almost identical production out for Bay that we could have predicted from Manny [assuming, of course, that he decided to play].
In 100 games for Boston last season, Manny hit .299, .398 OBP, .529 SLG, with 20 HRs and 68 RBI.  In just under half that many games [49] Bay hit .293, .370 OBP, .527 SLG, with 9 HRs and 37 RBI.  Now, I understand that Manny was dogging it on his way out of town, however, if he hadn't been traded, I can only assume he would have quit for the rest of the season.  There's no way to prove such a thing, of course, and I
hope
 winning meant more to him than that...
There's also the small fact that Jason Bay is a good defensive outfielder, and a consummate professional.  A lesser man would have gotten all worked up about replacing one of the greates right-handed hitters in the game.  Not Jason.  He knew that he wasn't there to be Manny... he was just their to play baseball, cooperate with his new teammates, and go for a championship.  All of these things Jason Bay has done, all we can hope for is that he'll keep it up, and since his carreer stats are similar to what he produced down the stretch, and he's almost as well liked in the clubhouse as Sean Casey, I'll hazard a guess that he has a productive 2009.
I'll end this with my apologies to Jason Bay [even though he'll never read it]: in making this entry about why Bay shouldn't be compared to Manny, all I did was compare him to Manny [oops].  However, I will end with the best Jason Bay quote I've encountered thus far.
"It's just a tiny little nick, but it hurts when I get champagne in their." - Jason Bay, after scoring the winning run in Game 4 of the ALDS, the first postseason series he ever played in.  I love this guy.