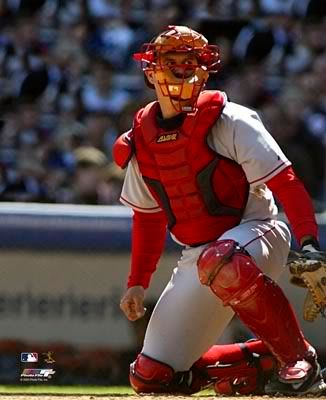 So, as we all know by now, the Sox captain will be back for at least one more year [in all probability for two].  I can't decide how I feel about this, however, because as much as Varitek [apparently] means to the pitching staff, he's just not who he used to be.
I understand that catching is scarce in MLB these days, so Varitek is realistically the best option for Boston this year.  Ideally, Theo would/will trade for a young stud for Varitek to train as his replacement, but the pickings are pretty slim: Miguel Montero, Jarrod Saltalamacchia, or, in a perfect world, Taylor Teagarden.  Unfortunately, Teagarden, who is the best all-around player of the three [check the stats] is rumored to be unavailable.  His [and Saltalamacchia's] team, the Texas Rangers, covet Clay Buchholz, but they won't do a straight up swap for Teagarden, and the Sox won't trade Clay for Salty.
Until the Sox find their catcher of the future, Varitek's it, and the fact that the pitchers hold him in the highest esteem is nothing but good news.  Here's hoping he has a marginally better year with the bat now that his divorce has been finalized.  It's also worth noting that the stomach flu that circulated in the Sox clubhouse last spring hit El Capitan rather hard, and he lost more than 15 pounds that he never really gained back in 2008.  Varitek is a notoriously hard worker, so I think it's reasonable to expect him in camp next week [NEXT WEEK!] in good shape, ready to put the offseason behind him and go for another playoff run.  Maybe he'll even throw out a base stealer or two...