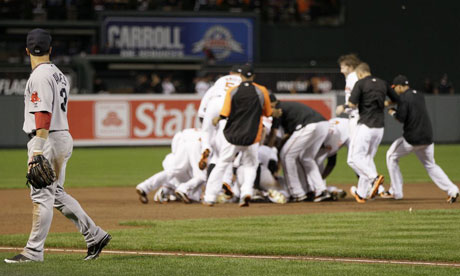 Remember the drama of last year's Game 162? The Red Sox were in Baltimore, and the Yankees were at the Trop. It took either a Red Sox win OR a Rays loss to send Boston to the playoffs. Not only did the Red Sox suffer a dramatic, devastating, walk-off loss to the Orioles, just minutes later, the Rays came back from a sizable deficit to beat the Yankees with a homer from Evan Longoria.
I can remember exactly how I felt when I watched Longoria's home run leave the stadium. It was as if all the hope had been pushed out of me with one swing of the bat. I kicked the other people watching the game with me out of my room, curled up on my bed, and thought about the awful September collapse that had brought the Red Sox to this point. I remember thinking that they had hit rock bottom, that things could only look better from that point forward.
It goes without saying that I was horribly, tragically, comically WRONG. The Red Sox have been out of things for months now, and I have to say that watching my team play essentially irrelevant games while everyone around me counts down to the beginning of football season is a whole new kind of excruciating.
I like the Patriots, don't get me wrong. But I LOVE the Red Sox. At least last year the Sox were in a pennant race up until the very last moments of the regular season. The Red Sox haven't finished in sole possession of last place since I was two years old, and I don't like it.
It would be nice to end this awful season with a win in New York, but Daisuke Matsuzaka is pitching, so I'm not really holding out much hope. Maybe it's more fitting that way.